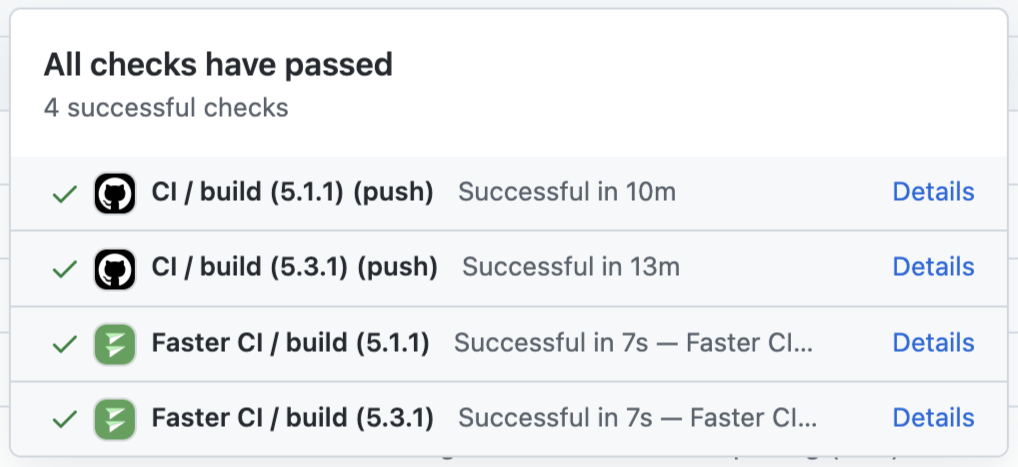 Build faster!
Build, test, and deploy your Bazel project in seconds, not minutes.
Get started for free
Login with GitHub
Authorize FasterCI App
Configure Workflow
Push code to Trigger Workflow
What We Do
Let developers focus on the code instead of waiting for builds and managing the build infrastructure.
Faster builds
Speed up your build times by using our build infrastructure optimized for Bazel
so you can spend less time waiting for builds and more time writing code.
Reduce infrastructure costs
Optimize your cloud costs by leveraging incremental build caching and efficient autoscaling workers.
Reduce maintenance
We take care of the CI infrastructure so you can focus on your code.
Visibility
Improve visibility into your build process by using our dashboard.
More secure secrets
Restrict your workflow secrets to specific branches to prevent them from being leaked.
Configuration as a code
Keep your CI configuration in your repository so you can version control it.
Pricing plans
Get started for free and upgrade as you grow.
Starter
For small teams and opensource projects
Public repository

Up to 2 active developers

Email support
Public or private repository

Persistent workers

Up to 4 cores of sustained load

Priority support

Free Trial for a month
Need more?
We will tailor Faster CI for you
Everyting in pro, and:

Custom repository

Custom integrations

Custom hardware

Unlimited developers

Custom simultaneous builds

Enterprise support